GET NEXT-LEVEL COLD AND COMPRESSION THERAPY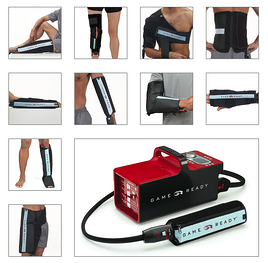 In sports and in everyday life, being hurt and on the sidelines is no fun. If you've suffered a musculoskeletal injury or had an orthopedic surgery, you want to come back as quickly as possible.The powerful Game Ready® System and complete range of anatomically designed, dual-action wraps allow for optimal therapeutic benefits.
Download the brochure and learn:
Why this is the injury treatment system of choice for thousands of elite athletes, orthopedic specialists, and physical therapists around the world
How you can get more therapeutic benefits than traditional Rest–Ice–Compression–Elevation applications.
What sets Game Ready apart from other devices
Simply fill out the form to the right to get access to the complete brochure now.