Quick Recovery Tips for Soccer Injuries
How do you get back to normal ASAP after a soccer injury?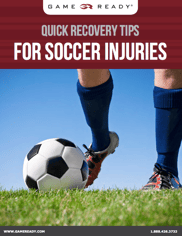 Whether you injured your knee, tore a ligament, or are experiencing shin splints, it can be discouraging to take time off the soccer field. With several recovery options available, how do you know which ones will work the fastest and help you make a full recovery? Read the guide, Quick Recovery Tips for Soccer Injuries to learn how to get back on the field as quickly as possible.
In this guide, you will discover:
How soccer injuries occur

Quick tips to ease pain

Tools to help accelerate healing
Complete the form to view your copy of the guide now.