Download This Game Ready eBook:
The Advantages of Intermittent Pneumatic Compression and Cryotherapy Treatment for Post-Operative Patient Care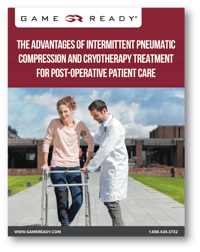 Intermittent pneumatic cryo-compression is used in a number of medical fields including athletic training and physical therapy, but it can also be employed for post-operative recovery to shorten recovery timelines and improve the patient's pain and discomfort after surgery without the harmful effects of medications.
This guide describes:
The many benefits of intermittent pneumatic cryo-compression

Which types of surgeries it applies to

When in the recovery process it can be used.
Simply fill out the form to retrieve a free copy of this guide!